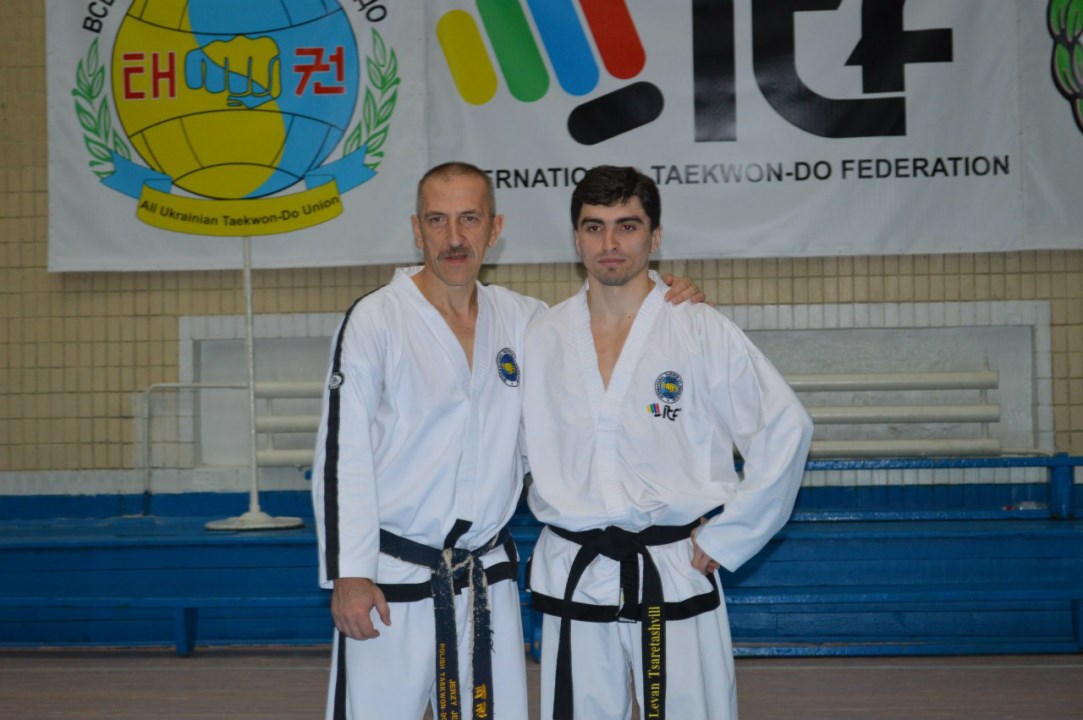 On 19-20th January in Kiev was held the 3rd Ukrainian Taekwon-do Seminar. The seminar was attended by sportsmen from Zaporizhya, Ivano-Frankivsk, Kyiv, Kirovograd, Crimean, Lviv, Odessa, Kharkiv and Chernivtsi's local branches of the Union. In addition, a seminar caused lively interest of adepts from Russia, Georgia and Moldova. Total in seminar participated 77 people from the 4 European countries.
List of participants:
# Name/Surname Degree
1. Oleg Solovey V Dan 2. Ion Postu V Dan 3. Ion Kotorobay V Dan 4. Golota Vladimir V Dan 5. Oleg Gromov IV Dan 6. Zherebnov Stanislav IV Dan 7. Ohnov Yuri IV Dan 8. Irina Kuznetsova IV Dan 9. Levan Tsaretashvyly III Dan 10. Katya Solovey III Dan 11. Ohnova Liana III Dan 12. Umerov Enver III Dan 13. Dmitry Cherkasov III Dan 14. Andres Gomez III Dan 15. Hripushin Alexander III Dan 16. Yatsukevych Julia II Dan 17. Korsikova Valentine II Dan 18. Eugene Vasilenko II Dan 19. Korobko Anatolia II Dan 20. Vahenyk Vladimir II Dan 21. Barchuk Andrey II Dan 22. Furykevych Michael II Dan 23. Savchak Lubomir II Dan 24. Grischuk Ivan II Dan 25. Nikita Orlov II Dan 26. Umerov Shevket I Dan 27. Katerina Naumenko I Dan 28. Colossus Oleg I Dan 29. Romanenko Artem I Dan # Name/Surname Degree 30. Vydyborets Anton I Dan 31. Dmytro Doroshenko I Dan 32. Kadomtsev Constantine I Dan 33. Myshko Ilya I Dan 34. Vasily Nikolaev I Dan 35. Parkhomenko Evgeny I Dan 36. Kuzmenko Maxim I Dan 37. Alexander Kolb I Dan 38. Chirkin Paul I Dan 39. Gigha Vitaly I Dan 40. Solovey Vitaly I Dan 41. Grischuk Nicholas I Dan 42. Voitovich Vasil I Dan 43. Voitovich Tatiana I Dan 44. Bryukhovetsky Michael I Dan 45. Chernetsky Alexander I Dan 46. Dudchak Sergey I Dan 47. Dymashok Julia 1 Kup 48. Vyrsta Oksana 1 Kup 49. Semchenko BogDan 1 Kup 50. Leonid Novikov 2 Kup 51. Babeshko Alexander 2 Kup 52. Boychuk Marko 2 Kup 53. Julia Galenko 2 Kup 54. By Sergei 1 Kup # Name/Surname Degree 55. Osaulenko Sergei 2 Kup 56. Trazanov Glib 2 Kup 57. Kuhtik Natalie 2 Kup 58. Drachuk Angelina 2 Kup 59. Vladimir Cybenko 2 Kup 60. Sharenko Arthur 2 Kup 61. Daniil Novikov 2 Kup 62. Swan Marina 2 Kup 63. Swan Yuri 2 Kup 64. Gorbach Vladislav 1 Kup 65. Ivan Kravchenko 2 Kup 66. Alexander Sharov 2 Kup 67. Golota Dominica 1 Kup 68. Stanislav Tarasenko 1 Kup 69. Kobtsev Rodion 1 Kup 70. Zudin Eugene 2 Kup 71. Krushat Anna 2 Kup 72. Papinyan Yuri I Kup 73. Vitali Sklyarov 2 Kup 74. Berdyna Veronica I Kup 75. Tulyk Nicholas 1 Kup 76. Hatuyeva Madryn 2 Kup 77. Samilyek Vladimir 2 Kup
Seminar was conducted by Master Jerzy Jedut, 7th Degree from Poland, the Secretary General and the Member of the Technical Committee of All European Taekwon-Do Federation (AETF). The seminar consisted of two parts: basic technique and technique of sparring. Immediately after the seminar, all the participants could watch a Taekwon-Do attestation, that first black belt test in Ukraine with Master Jerzy Jedut. The most prepared sportsmen of the Union have applied for the right to get the next master degree (Dan). Most athletes demonstrated proper technical level which results in the fact that they successfully passed the Taekwon-Do grading. The people promoted were: Mr. Umerov Enver (Crimea) to 4th Degree and Mr. Barchuk Andriy (Ivano-Frankivsk) to 3rd Degree. During the closing ceremony of the seminar Master Jerzy Jedut noted the positive atmosphere that was on the seminar, athletes craving for new knowledge and the desire to develop. In addition, Master Jedut thanked the All Ukrainian Taekwon-Do Union for showing discipline and a high level of organization. By the applause of the audience Master Jerzy Jedut personally presented to all participants the signed certificates confirming the completion of the seminar.